Pollution Control Fence
Siltron is a new composite silt fence that has been designed to provide the highest level of environmental protection on the market. Siltron is a composed of 3 layers of material which increases overall strength while improving water flow and filtration capabilities.. Siltron also has the added benefit absorbing hydrocarbons and certain heavy metals from runoff water. If there is a specific contaminant that is a problem we have the ability to custom make the fence with different filter media to target specific pollutants. We believe that this product is ideal for sensitive ecological areas that need an added layer protection.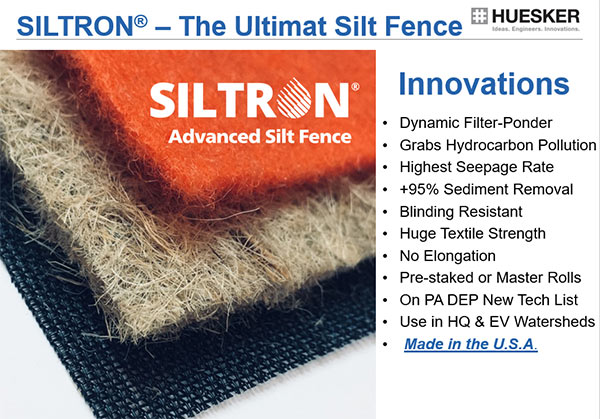 CC Siltron-Polution-Prevention-Fence
Download PDF
---
Tektoseal
With ever increasing pressure placed on contaminated site remediation and ground water protection are fueling the need for new an innovative products. The Tektoseal line of products fills this need by combining geotextile materials with absorption media specific to problem contaminants.

Infosheet_Tektoseal_Active_AS_GB
Download PDF
---
Siltation BMP's(Best Management Practices)
Cross Country supplies a wide variety of Catch Basin Protection products. We have a product to meet any need for catch basin and curb inlet protection. The majority of our products can be customized to your specifications.

| | | |
| --- | --- | --- |
| CCIS-CBD16 | Catch basin Donuts | 16in x 24in |
| CCIS-CBS | Catch Basin Socks | 9in x 9ft |
| CCIS-CBFIL | Catch Basin Inlet Filter | 4in x 4ft |
This product listing is not inclusive of all our available products. Please call for any inquiries not listed on the website.
Canadian Locations
Cross Country Spruce Grove, Alberta
361 Saskatchewan Ave, Spruce Grove, AB, T7X 3A7
Cross Country Clairmont, Alberta
8402 – 105 Street, Clairmont, AB T8X-0S6
Cross Country Fort St. John, BC
9514 79th Street, Fort St. John V1J 4J9
Cross Country Terrace, BC
3125 Braun Street, Terrace, BC V8G 5N9
Cross Country Prince George, BC
9400 Cariboo HWY 97 South, Prince George, BC V2N 6E1
Cross Country Kamloops, BC
10250 Dallas Dr, Kamloops, BC. V2C 6T4
Canadian Geosynthetics Team
Supporting Equipment and Services
Cross Country also has available a full range of supporting equipment and the expertise to assist you with your project.
We're Here to Help. Contact Us Today!